What is an In-kind Donation?
An in-kind donation could be donating goods, such as a store donating trash bags to a cleanup project, a restaurant donating food for a community event, an individual donating their used clothes to the local thrift store.

An in-kind donation could also be donating your time or professional services. This could include regular volunteers at museums, an accountant doing the taxes for a non-profit, company staff helping to plant trees on company time.

All of these things benefit the non-profit but are not financial donations. The estimated value of in-kind donations can often be used as the organizations contribution to a matching grant. For instance if an organization seeks a grant of 50,000 for an after school program, the granting foundation may require that the organization provide half the grant through fund raising or in-kind donations. Thus the hours of any volunteers helping with the program, any donated craft supplies or food could be counted as their contribution.
In Kind Donation Acceptance Policy
Since the beginning New Beginnings Children's Home has depended on in-kind donations of items that are vital to the operation of its services and home. In order to make the best use of our limited storage space, limited availability of staff to handle these donations and to insure that donated items are put to their best use, a policy for in-kind donations follows. An updated list of needed in-kind donations will be available our website. We encourage donors to consult this list before making any in-kind donations.
General Policies
All donors will be asked to contact New Beginnings Children's Home before dropping off any items.
Items that are needed in the near future will be listed on the website.
In most cases the transportation of items to New Beginnings Children's Home or its storage facility by staff is not available.
By law, the valuation of any in-kind donation is the responsibility of the donor.
In-kind donations must be wholly consistent, in fact and appearance, with the activities, policies, mission, goals, and/or programs of the New Beginnings Children's Home.
Due to lack of storage space and resources, New Beginnings Children's Home reserves the right to decline any in-kind donation.
At the time the donation is accepted the donor will receive information as to the possible disposition of their donation and sign the donation form to acknowledge this information.
Items that are accepted as in-kind donations by New Beginnings Children's Home become the property of New Beginnings Children's Home and may be re-donated, sold or discarded as need be.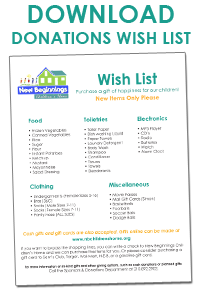 General Needs
There is an unlimited need for Gift Cards to:
Wal-Mart
Target
H-E-B
Lowe's / Home Depot
Best Buy
Any gas station
New Beginnings Children's Home is unable to accept the following items:
used computer equipment
used stereos or stereo components
videotapes, records, cassette tapes
used undergarments
used clothing that is stained, soiled, ripped or in disrepair
used furniture or bedding that is stained, soiled, ripped or in disrepair
food items with outdated expiration dates
decorative items such as vases, figurines, wall art, paintings, posters etc.
console televisions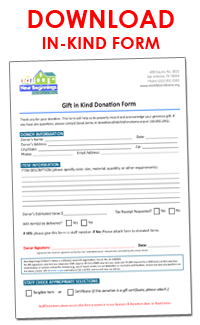 If interested, please contact our Sponsors & Donations Department at (210) 892-2902 to donate in-kind items.
If you don't see an in-kind donation you'd like to make included in this list, please contact us, we appreciate various forms of creative in-kind donations.