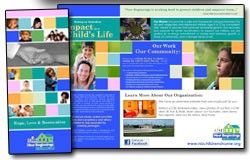 New Beginnings Children's Home (NBCH) is San Antonio's newest General Residential Operation. Opened in 2010, our facility consists of two eight-bedroom dorms. Our mission is to provide a safe and therapeutic living environment for abused, neglected, and displaced children ages 5 to 17. The care we provide will promote emotional growth and recovery and prepare the children for family reunification. 

NBCH was created in response to San Antonio's rising child abuse problem. Last year, the Texas Department of Family and Protective Services reported nearly 6,000 confirmed cases of child abuse and neglect in our community with a number of those cases resulting in death. Collectively, we can diminish the impact of this statistic by creating an atmosphere of love, hope and restoration so that each neglected child can face the unexpected with a new perspective  and reverse a life of despair.
New Beginnings Children's Home offers a therapeutic and confidential place for healing in it's serene environment. 

New Beginnings Children's Home is a non-profit agency providing valuable support and guidance through quality services to youth in Texas.